Home - finally. It's been a week full of fun, food, and laughs with family and friends in Chicago. I had a great trip to Chicago and have had ample time to reflect on what was and wasn't on 10-10-10. I really had mixed feelings about my result at first, but now I am fully embracing the marathon for what it is and what it teaches me every time I toe the start line. It's not about the time on the clock that matters. It's what you gain from the journey. Sure, PR's and fast times are what we all crave, but in the end the whole reason we do this is because we love it. No one is going to remember what time we ran in our races except ourselves. Everyone will just remember that we are marathoners. A label placed on people who are willing to sacrifice, endure, and conquer. We are all fighters and I truly think endurance athletes possess a special trait that will never let us give up. It's great being part of such a special community.
As far as the race goes, it's one that I will look back on and remember what it felt like to suffer. I really did suffer in this race. In the grand scheme of things, it's probably one that will help me grow as an endurance athlete and hopefully help me take that next step to a sub-4 hour marathon. I learned some tough lessons on the course and learned that patience and humility are needed to reach your full potential. My race strategy was a little too aggressive and I think I paid for it in the end. I learned that tall buildings inhibit Garmin watches from accurately calculating distance and pace. I learned that pace bands are a necessity of life in big city marathons. I made some rookie mistakes in this race. Something that only experience will help me overcome. I have to remember that this is only marathon 2 and my racing career is very short-lived. As much as I may think, I don't know everything. Patience and humility.
Race day arrived innocently enough. We really didn't do much of anything Friday night or Saturday besides watch football, go pick up our race packet, and carbo load. It was exactly as I had hoped and planned. Race morning didn't come too early because we were really close to the start line. The alarm went off about 5 AM and both Katie and I had our pre-run ritual of coffee, bagels, and peanut butter. I had all my race stuff prepared from the night before so it was a pretty quick transition from sleep to being race-ready. We took the red line subway to the start area and hopped off to join the waiting lines of runners at the porta-potties. I really didn't drink much in the way of water, coffee, or sports drink at the apartment so the restroom break was more of a ritual and a way to release nervous energy. After the porta-potties Katie and I parted ways as I headed to the seeded start corral to join my fellow runners. The seeded start corrals were a cluster to get into, but once inside it was rather roomy so I plopped down on the pavement and tried to conserve some energy. I stupidly threw away my bottle of Gatorade Endurance formula before I got into the corral and I really needed something to drink by the time the starting gun went off. Oh well, another rookie mistake.
I lined myself up near the 3:50 pace group because that was my initial goal. I should have adjusted when the temp was 70 degrees at 7:30 AM. I should have been more conservative and stuck myself with the 4:00 group and adjusted as I went if I felt good. However, I was dead set on the fact I could hit 3:50 that I stuck with the group. Rookie mistake. The starting gun went off and I crossed the start line about 7:35 so it only took me about 5 minutes to get to the start. Not too bad in a mass of 37,000 people.
As we started, it was all I could do to try and keep myself in check and not run too hard. The pace group was really erratic and dodging people made it nearly impossible to get into any sort of rhythm. Also, being downtown and going underground in the first mile my Garmin was all kinds of screwed up and was worthless as far as keeping pace. I was trying to run by feel and by the pace group, but neither was very helpful. I should have pared back my pace. Something I will make note of for NYC. Start slow, Bryan. The first few miles were all downtown and the crowds were amazing. People were stacked 4 to 5 deep along the entire first few miles. My parents and friend were waiting at mile 3.5 near our condo and I was super happy to see them so early in the race. We really didn't know if it would be easy to spot each other, but they did a great job of being visible and I made an effort to get myself to the side of the street I thought they would be on at each point.
After seeing my folks, I settled in behind the 3:50 pace group and tried to run with them. My plan was to stick with them and just see how it went. Again, the pace groups were very unpredictable. They would speed up, slow down, and go all over the street. I guess when you are among that many people it's to be expected, but I eventually had to say screw the pace group and just do my own thing. I could tell it wasn't doing me any good so why bother and stress about staying with the group. The first 10 miles or so of the course were well-shaded, had great crowd support, and were entertaining. Tons of stuff to look at and it didn't feel oppressively hot yet. Our alert level on the course was raised to yellow (moderate alert) about 10 miles in and after we left the taller buildings I could tell why they had raised the level. It was a glimpse into things to come and I really would regret that decision to try and stay with the 3:50 group later on in the race.
Up until the halfway point, I was feeling pretty decent, but even then I knew it was going to be a tough day. It wasn't that I was struggling really, but I could feel that I may have went out too fast. My time at 13.1 was 1:56:13 and I was still on pace to break the 4 hour mark, but the 3:50 race was becoming a distant reality. After the 13.1 marker, the heat really started to settle in on the course. All of the shade provided by the buildings and trees was gone and it was just us, the road, and the sun. You would think that training and running in OK all summer would have helped, and I thought so as well, but apparently running a marathon in the heat is a bit different. About mile 15 or 16, I really began to feel that I was in for a rough finish. I was starting to feel like I had run a lot further than I really had and the doubts began to creep in about my ability to hit the sub-4 hour mark. I knew I was still on pace, but I wasn't sure if I could actually keep my pace at that level. I never imagined that I would struggle that much, but I did. The positive note is that my Garmin started working properly the 2nd half so it was much easier for me to see how my pace was doing. As you all know, when you are struggling with heat and distance, you feel like you are running a lot faster than actually are. It was good to look down at my watch and see that, yes, in fact I was struggling to keep a sub-9 minute mile. It was a reality check. The last 10 miles were going to hurt.
It's funny in a way, and kinda scary in a way, that I don't remember much about the last 7 to 8 miles. There are parts of the course in some of the race photos that I don't ever remember seeing and I couldn't tell you at what point we went through the different ethnic neighborhoods late in the race. For those of you who don't know, that is one of the highlights of the Chicago marathon. At this point I was also having to walk through every aid station and take multiple water and Gatorade cups to stay hydrated. My sweat rate was really low which is scary for me because I normally sweat buckets. It crept into my head that I might get into trouble, but I was going to have to be forced down before I actually gave in to any sort of heat issues. I was dumping water on my head every chance I got and was taking multiple sponges when they were offered. I don't know why I was struggling so much with the temps. They weren't extreme, but did reach the mid-80s very quickly. I read in a report post-race that it was the 3rd hottest Chicago marathon in history. It felt like it too.
The one shining spot for me from mile 20 on was seeing my parents and Holly at mile 23. I knew they were going to be there and it kept me moving. They had even went to make signs for Katie and I during their journey to the south side of the course! It was great to see their faces and afterward they said I looked stronger at mile 23 this race, than I did in Dallas at the same point. I laughed because I felt like crap. I must have had a good poker face on. After seeing my folks, it was only a few more miles to go and I kept bargaining with myself to try to keep from walking. I was really, really struggling at this point and my pace just kept getting slower and slower. I was walking through every aid station and even walked a little beyond the aid stations at times because I just felt like crap. I knew I was getting close to the finish, but I also knew I was getting close to pushing myself over that slippery slope of heat-related issues. I wanted to push as far as I could without jeopardizing my health.
As I made my final push to the finish, I kept wondering how everyone else was doing too. I wondered if it was just me. I looked around to survey the people around me and it wasn't just me. Everyone looked like crap. Ambulance sirens were going non-stop and runners were scrambling to find any slice of shade possible. At one point after mile 16 or so, I heard one of the aid stations announce that the alert level had been raised to red. Red meant we were one level away from extreme conditions. Here is a snapshot of the alert levels for those who are not familiar: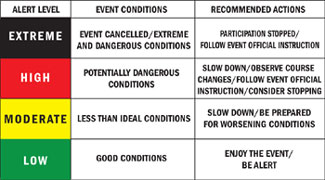 We were really at a point where it wasn't really a choice to slow down. You were slowing down to stay safe. I tried to keep up with hydration the best I could and when I hit mile 25 I tried to give it my all. I knew I was so close, but it felt like I was so far away too. I wasn't going to walk the last 1.2 miles. It just wasn't going to happen. I was pumping my arms and churning my legs as fast as I could get them to move. It's very telling when 9:13 and 8:51 pace was the best I could muster at that point. I knew sub-4 was out of the question, but a PR was definitely going to happen. The last 800 meters really felt like an eternity. Not only was everything in my lower body on fire, they decided to throw in a hill on the way to the finish as well. The crowds were huge, but I was miserable. I was so ready to be done. I turned the corner on Columbus Drive and was so happy to see the finish line. My body was done. I had left it all out on the course. As soon as I crossed the finish line, I got really dizzy and couldn't walk straight. I found the first curb I could find and sat down. If it hadn't been for that, I would have fallen down. I took a while to gather myself and try to cool down before a very demanding race volunteer came over to me and told me to stand up. I tried to explain that I was dizzy and couldn't stand up, but she forced me to my feet and told me to move along. She said I would thank her later. I didn't. I was actually quite annoyed. Regardless, I made my way through the chutes gathering up every ounce of water, Gatorade, and ice I could possibly find. I put ice bags on my head and just tried to keep moving. After about 15 to 20 minutes, I was finally back to feeling decent and made my way to our predetermined rendezvous point to meet up with Katie.
So, all in all, it was a good experience, but a tough experience. I continue to learn things about myself with each race I run and learned quite a few lessons out on the course. I need to be more conservative with my race strategy when temperatures aren't conducive to fast times. A 3:50 race would have been tough on a good day. It was nearly impossible on a bad day.
Post-race recovery has gone pretty well with the lone exception of my left knee. My left knee, which gave me fits all race, has been hurting all week and I am nervous that recovery for NYC is going to be pretty hit and miss. It's only 3 short weeks until NYC Marathon. At this point, it's going to be tough to get much running in between now and then and expect my knee to cooperate. I am resting and icing all I can this weekend since the stairs of the subway in Chicago didn't do me any favors. I already feel better after relaxing today and am hoping that a few more days of no running will help put me back in semi-decent shape. I will go for my first post-marathon run late next week. Until then, the elliptical and I will become close friends.
Sorry for the super long post, but a race report is never short it seems. Thanks for following along and send some positive vibes my way for NYC. Happy thoughts about the knee!